EVANS pleaded guilty in March 2021.  According to court records, at the time of the offense, EVANS was employed by the Tangipahoa Parish Sheriff's Office as a Criminal Records Division Supervisor.  From January 2016 through January 2017, EVANS, along with a co-defendant, Shawanda Dove, used cell phones to carry out a bribery scheme, in violation of 18 U.S.C. §§ 1952(a)(3) and 2.  EVANS solicited and accepted bribe money from Dove in exchange for fraudulent bonds used for the release of incarcerated persons.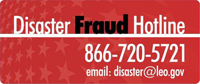 Help us combat disaster fraud.
650 Poydras Street, Suite 1600 – New Orleans, LA 70130
The post Former Tangipahoa Parish Sheriff's Office Employee Sentenced for Role in Bribery Scheme appeared first on Shore News Network.