NEW ORLEANS –  U.S. Attorney Duane A. Evans announced that JAVAN BAILEY, age 19, a resident of Cleveland, Ohio, was charged on August 13, 2021 by a federal grand jury sitting in the Eastern District of Louisiana in a two-count Indictment with producing images and videos depicting the sexual exploitation of an eleven-year-old female, Victim 1, in violation of 18 U.S.C. ' 2251(a), and transmitting interstate threats for the purpose of extorting a thing of value, in violation of Title 18, United States Code, Section 875(d).  Specifically, BAILEY is alleged to have extorted Victim 1 into sending him additional sexually explicit depictions by threatening to "expose" Victim 1 by sending prior depictions of Victim 1 to her family members.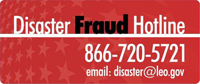 Help us combat disaster fraud.
650 Poydras Street, Suite 1600 – New Orleans, LA 70130
The post Cleveland, Ohio Man Charged with Producing Files Depicting the Sexual Victimization of Children and Extorting 11-Year-Old Female to Send Sexually Explicit Depictions appeared first on Shore News Network.