Newark Police Detectives have identified the suspects in this incident, which occurred on November 10th, as Nathan Harrington, 25, and Brittany Martin, 26.  Both are last known to have lived in Northeast, Maryland.  Arrest warrants for Robbery First Degree and related offenses have been issued for both suspects.
In addition, arrest warrants have been obtained charging Harrington with a similar robbery at the same location on May 15, 2020.
Anyone with information about the location of Harrington or Martin is asked to contact Det. W. Anderson at (302) 366-7100 x. 3469 or wanderson@newark.de.us.  Additional methods for providing information to Newark Police can be found on our tips page, where reward information may also be available.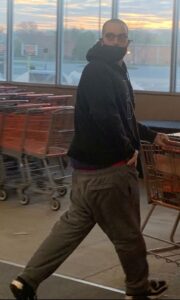 On November 10, 2020, at about 0722 hours, Newark Police responded to the Home Depot store in Suburban Plaza for a report of a robbery.  Upon arrival, a store employee advised officers that a white male left the store with unpaid merchandise.  When he was confronted by an employee, the male displayed a knife and fled the store.  There were no injuries.
On May 15, 2020, at about 1523 hours, Newark Police were dispatched to the Home Depot store in Suburban Plaza for a report of a shoplifting.  A store employee reported that the suspect was carrying merchandise under his arm and attempted to leave through an "entrance only" door by trying to force the door open.  As the male employee approached the suspect to ask to see his receipt, the suspect displayed a knife and fled on foot through the parking lot to a black pick-up truck.  The employee was not injured.
The suspect was described as a white male in his 30's, short black hair, glasses and wearing gray sweatpants and a dark gray hooded sweatshirt.  He has a tattoo on his left hand (photos of the suspect below).  The suspect fled in a black Jeep Cherokee with Maryland license plates.